Posts for tag: dental exam
By Jennifer L. McCoy, DDS, Cosmetic & Family Dentistry
September 27, 2020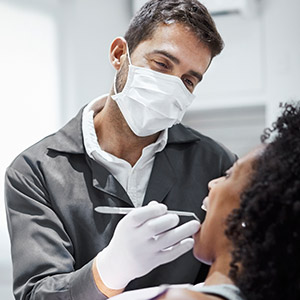 Each year millions of people endure repeated episodes of congestion, coughing and headaches, all the miseries that come with a sinus infection. Although it seems like all the action is occurring around the nose and upper face, the actual cause could be emanating from somewhere else—your teeth.
It can all begin with decay forming a small cavity in one of the upper back teeth. If it isn't caught and treated early, the decay can spread into the tooth pulp and root canals, tiny passageways to the root and bone. This may or may not cause a severe toothache or sensitivity as the tooth's nerves respond to the infection. These nerves, though, most often eventually die and the pain, if present, will subside—but not the infection.
Left untreated, the infection may then advance into the bone around the root tip, breaking it down and giving bacteria an entryway into the floor of the maxillary sinus that rests just above the upper jaw. Here bacteria can take up residence, occasionally flaring into a sinus infection. This chronic infection could go on for years with allergies mistakenly taking the blame.
If you have frequent bouts of sinusitis, a possible dental connection may be worth investigating. And in the dental profession, there may be no better "detective" for this than an endodontist. Specializing in interior tooth problems and treatments, an endodontist has the diagnostic equipment like CT or 3-D cone beam scanning to accurately image the teeth and upper jaw. With their advanced diagnostics, they're in the best position to uncover hidden tooth decay contributing to sinus problems.
Endodontists are also skilled in treating advanced tooth decay. The main procedure is known as root canal treatment, in which the dentist drills into the tooth's interior to remove infected tissue from the pulp and root canals. They then fill these empty spaces, seal and then crown the tooth for added protection.
After treatment and following up with your physician, you may find your sinus infections are less frequent. And by promptly seeking treatment at the first sign of tooth pain or sensitivity, you might prevent chronic sinusitis from even developing.
If you would like more information on how dental disease can affect overall health, please contact us or schedule an appointment for a consultation. You can also learn more about this topic by reading the Dear Doctor magazine article "Sinusitis and Tooth Infections."
By Jennifer L. McCoy, DDS, Cosmetic & Family Dentistry
April 14, 2017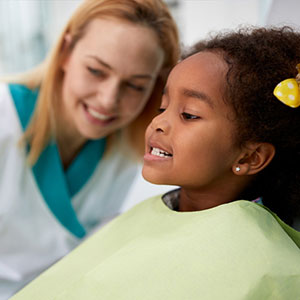 When does dental care begin for a child? In the truest sense, before they're born. Although the first teeth won't erupt until months after birth, they're already forming in the baby's jaw while still in the womb.
During the prenatal period a baby's dental health depends on the mother's health and diet, especially consuming foods rich in calcium and other minerals and nutrients. Once the baby is born, the next dental milestone is the first appearance of primary teeth in the mouth. That's when you can begin brushing with just a smear of toothpaste on a toothbrush.
Perhaps, though, the most important step occurs around their first birthday. This is the recommended time for you to bring them to visit our office for the first time.
By then, many of their primary teeth have already come in. Even though they'll eventually lose these to make way for their permanent set, it's still important to take care of them. A primary tooth lost prematurely could cause the permanent tooth to come in improperly. Saving it by preventing and treating tooth decay with fluoride applications and sealants, fillings or even a modified root canal treatment could stop a bad bite and costly orthodontic treatment down the road.
Regular trips to the dentist benefit you as a caregiver as much as they do your child. We're your best source for information about dental health and development, including concerns like teething and thumb sucking. We'll also keep you informed on your child's growth process as their teeth, jaws and facial structure develop.
Beginning regular dental visits at age one will also help make your child comfortable with seeing the dentist, more readily than if you wait until they're older. It's an unfortunate fact that many people don't seek out the clinical dental care they need because of anxiety over visiting the dentist. Starting early, not only will your child be getting the best in dental care, they'll be developing a habit that can continue to benefit their oral health the rest of their lives.
If you would like more information on your child's dental care, please contact us or schedule an appointment for a consultation. You can also learn more about this topic by reading the Dear Doctor magazine article "Age One Dental Visit."